Wildlife Loss in Our Oceans
March 4, 2019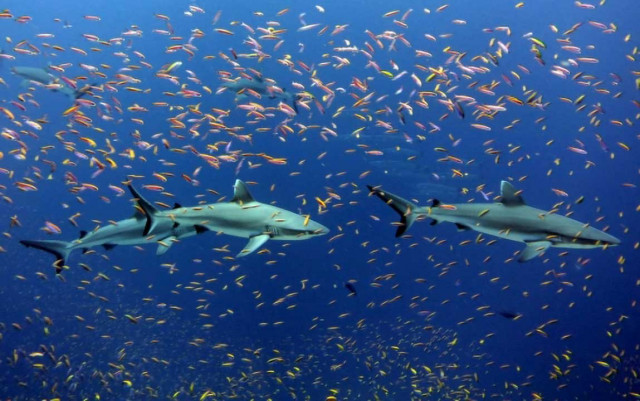 By Shelly Leachman
From elephants to monarch butterflies, news stories abound about the decline and even extinction of wildlife on land. But what's happening in the ocean? What's the status of whales, sharks and other wildlife on the remaining 71 percent of our planet?
In this year's Harold J. Plous Lecture at UC Santa Barbara, Plous Award recipient Douglas McCauley, now an associate professor in the Department of Ecology, Evolution, and Marine Biology, will provide a brief history of the ways humans have changed ocean ecosystems and examine how marine science can be used to predict future impacts.
McCauley's talk, "The Past and Future of Wildlife Loss in Our Oceans," will begin at 4 p.m. Monday, March 11, in the auditorium of the campus's Marine Science Institute (MSI). It is free and open to the public.
"The talk will be about how we are changing how we use the oceans, how that is affecting ocean life, and what all of this ocean change means in the end for us," McCauley said. "I will connect those three threads in the lecture. We're now in a very historic moment for the ocean — a moment where the decisions that we make in the next few years will shape what becomes of ocean health in the next few centuries."