The Cat, The Myth, The Legend
August 7, 2019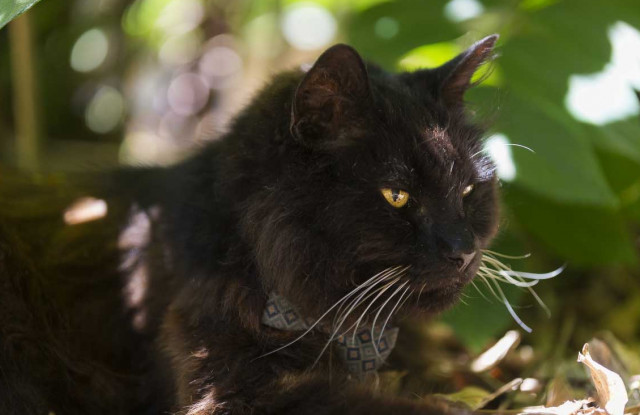 By Nora Drake
No one knows exactly when or where Big Boy was born, or how he came to live at UC Santa Barbara. As best anyone can figure, he showed up near some biology labs around 2005, possibly left behind by a former staff member who could no longer keep him as a pet. He has made his home in a small courtyard on campus for the past 15 years, cared for by many, but owned by no one.
Often, people find out about Big Boy through word of mouth, and so a network of fans and stewards has built steadily over the years. Katie Title, who works as an academic advisor in the College of Engineering, was told by a former coworker about a very friendly campus cat. Title started spending a few lunch breaks per week visiting the cat, and eventually decided to step up and become his primary human liaison.
"I was just a fan originally," Title said, "but now I have become the central contact for him." Last year, some concerned students took Big Boy to a local shelter, ASAP (the Animal Shelter Assistance Program). The shelter checked him out, determined he was not a stray and released him (after Title volunteered to be his official campus designate).
Title created a Facebook group so that people could learn more about Big Boy and so that she could accurately communicate information about his care and well-being. She even donated her time and money to take him to the vet for a check-up, where he received a clean bill of health (aside from some necessary routine dental work — more on that later).