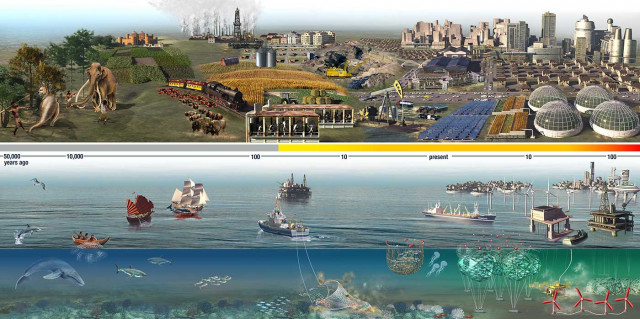 The Past and Future of Wildlife Loss in Our Oceans
Date and Location
Monday March 11, 2019 4:00pm
MSI Auditorium
From elephants to monarch butterflies, the news is full of stories about extinction and wildlife declines on land - but what is the status of animal life on the other 71% of our planet: our oceans? How are whales, sharks, and corals faring relative to terrestrial wildlife? Professor Douglas McCauley will provide a brief history of the ways we have changed ocean ecosystems and will examine how marine science can be used to predict what future human impacts may be on our seas. He will share how we can use marine research and emerging technologies to not just document, but intelligently shape what the future becomes for our oceans and marine wildlife.
Douglas McCauley is an Associate Professor in the Department of Ecology, Evolution, and Marine Biology and the Marine Science Institute at UC Santa Barbara. He is the Director of the Benioff Ocean Initiative, a center of applied research at UCSB dedicated to using marine science to improve ocean health. In addition, Professor McCauley is an Alfred P. Sloan Research Fellow in the Ocean Sciences. He earned his PhD at Stanford University and conducted postdoctoral research at both Stanford University and UC Berkeley.
The Harold J. Plous Memorial Award was established in 1957 to honor Harold J. Plous, Assistant Professor of Economics. The award is given annually to a faculty member of the rank of Assistant Professor or Instructor who has demonstrated outstanding performance by creative action or contribution to the intellectual life of the college community.